digital camera is an important tool for consumers who like to capture the important moments in his life or just to catch a variety of random events around. Technological developments also manages to present consumers a wide range of digital cameras, and even some manufacturers embed a qualified quality camera into the smartphone.
Variations
models offered sometimes even create new problems for consumers. With the many choices and budget is limited, what camera model enough to accommodate the needs of each customer? Is the smartphone camera quality is good enough? Should buy a pocket camera or jump directly to the camera mirrorless ? DSLR camera Could be a more appropriate choice for long-term investment?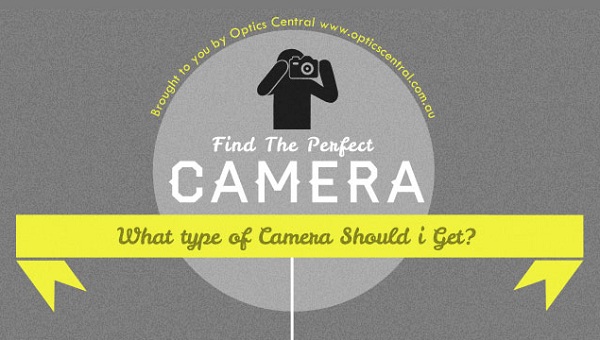 Whatever your question, Optics Central offers an Infographic of (probably) can facilitate the process of selection of camera models. Infographic explains the accuracy of selection of DSLR cameras, mirrorless , a pocket camera, the camera is weather proof , up to a smartphone-based characteristics and activities of each consumer.
For example, a digital SLR camera ideal for consumers who are looking for quality photographs terbarik for shooting in the studio, landscape, documentation, and taking pictures in my spare time. For consumers who like the outdoor adventure and a lot of contact with water, like at the beach, portability and toughness weather proof camera be a more appropriate choice.
type of activities appropriate to use a pocket camera and mirrorless was not much different. Shooting in his spare time or in the middle of a birthday party, appropriate to use both types of cameras. compact body and the light does not hinder the mobility of users. However, with a diverse selection of lenses, cameras mirrorless to capture the style choices are wider.
What about smartphones? When compared with the above four types of cameras, camera image quality in a smartphone is the worst. The surplus is located in the always-on internet connection. These capabilities make the smartphone choice for those who love to share photos via social networking.
what camera model do you have? Is it in accordance with your needs?
OlivePad V-T100 Tablet: Tablet Android with High Optimization
Vigo 350 Toshiba Smartphone Review: Android Dual GSM with Complete Features
For the Asset Selling
Kodak Company Survival
Android 4.0 Upgrade Schedule
Ice Cream Sandwich for Smartphone LG Officially Announced!
USB 3.0 To Be Present at The Tablet and Smartphone
[PR] First in Indonesia, Telkomsel Launching the iPhone 4S Online at Blibli.com
Canon Powershot G1X
Present in Indonesia
Spike: Casing and Unique Physical Keyboard to iPhone
This entry passed through the Full-Text RSS service – if this is your content and you're reading it on someone else's site, please read the FAQ at fivefilters.org / content-only / faq.php # publishers. Five Filters recommends: Incinerating Assange – The Liberal Media Go To Work.